Watch & Pray during Social Distancing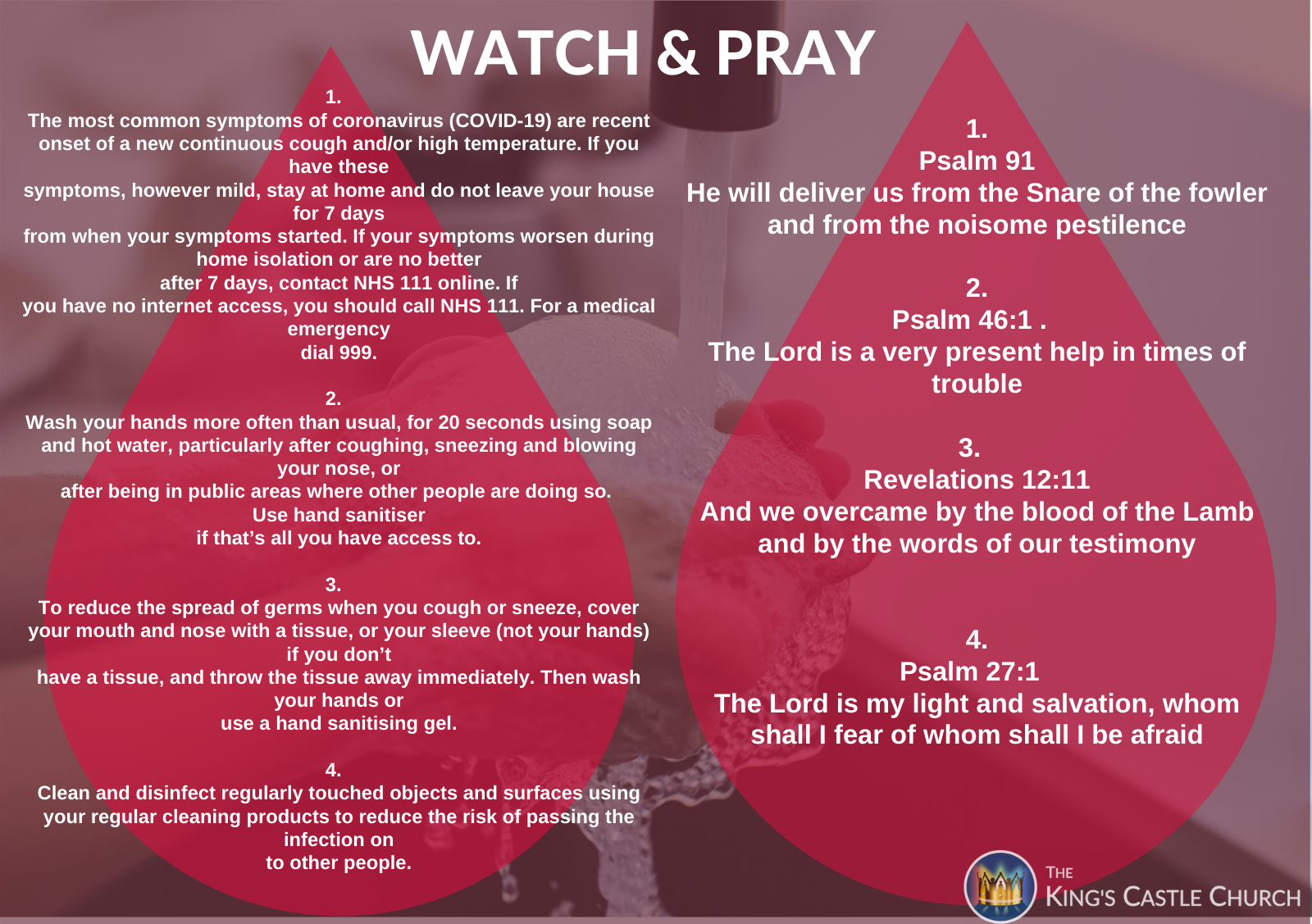 The Lord is a very present help in times of trouble. Even in this season it is essential to watch and pray. God will keep us safe.
NOTICE OF CHURCH SERVICES
Given the uncertainties surrounding the current Coronavirus pandemic (COVID-19) and in compliance with the advice given by the UK Government regarding large gatherings, The King's Castle Church will be holding her Sunday Church services ONLINE @10:30am.
You can join our services via any of our social media platforms
From this time until further notice, we have taken the following measures in compliance with the government's directives:
1.CHURCH BUILDINGS CLOSURE:
The King's Castle Church buildings in Newcastle, Sunderland and South Shields will be closed to the members of the Church and the public, except by invitation of the Church office staff.
2.e-CHURCH SERVICES:
We will run all our Church services online, including the Sunday and weekday services.
The Sunday service will be live on our social media platforms @10:30am. Members from all our expressions are expected to join the live broadcast.
We have made provision to hold all prayer meetings on Mondays to Fridays ONLINE until further notice. We encourage all members to join us via our social media platforms. Members will be notified of the times of these meetings.
3.PASTORAL SERVICES/SUPPORT:
Though our Church buildings are closed, we are still committed to continue serving our members at this challenging time through prayers, counselling, benevolence support and spiritual guidance. Please call the Church office on 07861661380 if you need any of these services.
We are praying for you and your family for protection against this pandemic.
We want you to have faith in God!
Remain Blessed
The King's Castle Church 20th March 2020